Pest and disease management
A major focus for the industry has been on developing solutions for pest and disease challenges that growers face. Finding alternatives to methyl bromide used for soil fumigation to control serious soil diseases, especially Phytophthora root rot was a major challenge and this disease continues to be a major threat to soil grown strawberries. Some growers have moved to what is called Table top systems where plants are grown in artificial media which overcomes the need for soil sterilisation.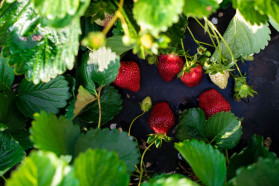 Pesticide use is constantly evolving and with materials being withdrawn from use and new materials being developed, there is an on-going demand to develop new control options to meet the pest and disease challenges that growers face. More recently the focus has been on developing integrated pest management (IPM). This system has a focus on using biological control options for pest control and minimising the use of chemical pesticides and ensuring that pesticides that are used do not affect the predators.
One of the limitations to the success of this programme has been the management of thrips which is providing a major challenge. As a result, a major programme has been developed, supported by the MPI Sustainable Farming Fund, which will run from 2019 for 3 years.